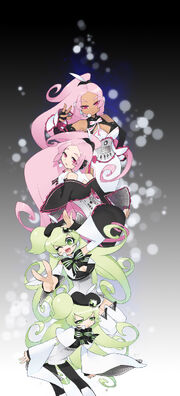 Welcome to the unofficial Macne Series (Mac音シリーズ) Wiki, a wiki about the Macne series voicebank libraries for GarageBand and UTAU. The Macne Series is a series of voice synthesizers developed for the Macintosh operating system. It was developed by MI7 Japan Inc. and distributed by Act2.
This wiki is dedicated to the exchange of information on the Macne series. Please refrain from acts of vandalism, but all helpful edits are welcome.
Important: We are looking for translators. Currently due to this issue we can only put up limited information on certain subjects, things which are considered relatively easy to translate. This leaves some areas of information incomplete. When a translator is found, more detailed information will be added to the wiki.
We apologize to readers for the inconvenience.
Note; We are aware that the original Macne Act2 website has been closed, links have been left in place as reference. Below is a link to the original website (logged at date; 24th July 2012) via a wayback machine.
Macne Series

Vocalist
Providers
Misc.

Illustrators

Affiliates

tba

Misc.

 © 
Macne Series and all related titles, logos, images and characters are ™ and © of M17 Japan. 2008–2014.

All Rights Reserved. Original Presentation 2008–2014 M17 Japan. The images, text, and names etc. are used for non-profit informational purposes and all copyrighted images are attributed to their authors.

 © 
Latest activity
Edit