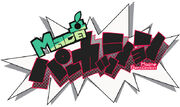 Macne Percussion (Mac音パーカッション) was an app for the iPad. It worked for the iPad2 and the iPad3, and it was released in late December 2012.
In late 2013, the app was removed from the app store and is no longer supported on newer versions of iOS (iOS 11 and up).
The app has two modes:
Play Mode: an object catching game. Ten songs made with the Macne software were included.
Free Mode: upload an MP3 and use Macne Nana's voice in percussion mode to add lyrics on top of the sound.